Are you looking for a saddle or supplies for your Puch?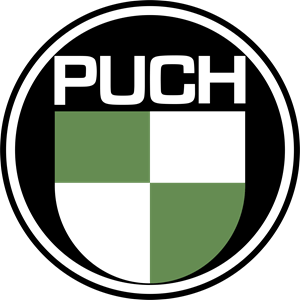 Here you will find our wide range of saddles and saddle parts for all Puch models such as Puch Maxi, Monza, Magnum X, Magnum, MV, VS, MS, DS. Choice out of Original, buddyseats, Chopper saddles and many more models, available in different colors. Suitable for your Street, Race and Cross Puch. Here you will also find everything you need to assemble or maintain your saddle
Have you not found your part or do you have questions about a part? Contact us for a quick response!
OFFER!

Puch buddyseat (Black)

Puch buddyseat (Black)

∙ Puch Maxi.
∙ Black.
∙ With Puch print.
∙ Complete with mounting parts.
∙ Length:500mm.
∙ Width:110/170mm.
∙ Height:70/90mm.

€ 42,50

Puch saddle thick version raised edge Black

Puch saddle thick version raised edge Black

∙ Saddle.
∙ Black.
∙ With Puch print.
∙ Model with raised edge on the rear side.
∙ Thick version.

Suitable for:

∙ Puch Maxi.

€ 37,95

Puch buddyseat Race (Black)

Puch buddyseat Race (Black)

∙ Puch Maxi.
∙ Black.
∙ Model:Race.
∙ length:510mm.
∙ width:180mm.
∙ Height:70/90mm.

€ 55,90

Puch saddle oldtimer universal black

Puch saddle oldtimer universal black

∙ Saddle.
∙ Oldtimer look.
∙ Black.

Measurements:

∙ Length: 310mm.
∙ Width: 210mm.
∙ Height: 80mm.

Suitable for:

∙ Puch Maxi.
∙ Puch Condor.

€ 41,50

Puch buddyseat (Blue)

Puch buddyseat (Blue)

∙ Puch Maxi.
∙ Blue.
∙ With Puch print.
∙ Complete with mounting parts.
∙ Length:500mm.
∙ Width:110/170mm.
∙ Height:70/90mm.

€ 39,95

Puch buddyseat (Red)

Puch buddyseat (Red)

∙ Puch Maxi.
∙ Red.
∙ With Puch print.
∙ Complete with mounting parts.
∙ Length:500mm.
∙ Width:110/170mm.
∙ Height:70/90mm.

€ 44,95

Puch buddyseat (Brown)

Puch buddyseat (Brown)

∙ Puch Maxi.
∙ Brown.
∙ With Puch print.
∙ Complete with mounting parts.
∙ Length:500mm.
∙ Width:110/170mm.
∙ Height:70/90mm.

€ 49,95

Puch saddle oldtimer universal black/Red

Puch saddle oldtimer universal black/Red

∙ Saddle.
∙ Oldtimer look.
∙ black/Red.

Measurements:

∙ Length: 310mm.
∙ Width: 210mm.
∙ Height: 80mm.

Suitable for:

∙ Puch Maxi.
∙ Puch Condor.

€ 39,95

Puch buddyseat (White)

Puch buddyseat (White)

∙ Puch Maxi.
∙ White.
∙ With Puch print.
∙ Complete with mounting parts.
∙ Length:500mm.
∙ Width:110/170mm.
∙ Height:70/90mm.

€ 34,95

Puch buddyseat short (Black)

Puch buddyseat short (Black)

∙ Puch Maxi.
∙ Black.
∙ With Puch print.
∙ Short model.
∙ Adjust it yourself.
∙ Length:340mm.
∙ Width:120/170mm.
∙ Height:90/130mm.

€ 49,50

Saddle short model Puch Z-One

Saddle short model Puch Z-One

∙ Saddle.
∙ Black.
∙ Model as Puch Z-One (A little shorter)
∙ Strap is included.

Suitable for:

∙ Puch Z-One.

€ 49,00

Puch saddle oldtimer universal black/creme

Puch saddle oldtimer universal black/creme

∙ Saddle.
∙ Oldtimer look.
∙ Black/Creme.

Measurements:

∙ Length: 310mm.
∙ Width: 210mm.
∙ Height: 80mm.

Suitable for:

∙ Puch Maxi.
∙ Puch Condor.

€ 37,95

Buddyseat Race Caramel brown Puch Maxi

Buddyseat Race Caramel brown Puch Maxi

∙ Buddyseat.
∙ Caramel brown color.
∙ Race model.

Measurements:

∙ Length:510mm.
∙ Width:180mm.
∙ Height:70/90mm.

Suitable for:

∙ Puch Maxi.

€ 73,90

Choppersaddle extra tall black Puch Maxi

Choppersaddle extra tall black Puch Maxi

∙ Chopper seat.
∙ Extra tall model!
∙ Model without spring, This means the seat is placed as low as possible.
∙ Height:23cm.

Suitable for:

∙ Puch Maxi.

€ 112,95

Choppersaddle extra tall purple Puch Maxi

Choppersaddle extra tall purple Puch Maxi

∙ Chopper seat.
∙ Purple.
∙ Extra tall model!
∙ Model without spring, This means the seat is placed as low as possible.
∙ Height:23cm.

Suitable for:

∙ Puch Maxi.

€ 96,95

Choppersaddle extra tall pink Puch Maxi

Choppersaddle extra tall pink Puch Maxi

∙ Chopper seat.
∙ Pink.
∙ Extra tall model!
∙ Model without spring, This means the seat is placed as low as possible.
∙ Height:23cm.

Suitable for:

∙ Puch Maxi.

€ 96,95

Choppersaddle extra tall white snake Puch Maxi

Choppersaddle extra tall white snake Puch Maxi

∙ Chopper seat.
∙ White snake model.
∙ Extra tall model!
∙ Model without spring, This means the seat is placed as low as possible.
∙ Height:23cm.

Suitable for:

∙ Puch Maxi.

€ 98,95

Buddyseat purple Puch Maxi S

Buddyseat purple Puch Maxi S

∙ Buddyseat.
∙ Purple.
∙ Complete with mounting parts.
∙ Length: 500mm.
∙ Width: 110/170mm.
∙ Height: 70/90mm.

Suitable for:

∙ Puch Maxi S.

€ 66,95

Buddyseat pink Puch Maxi S

Buddyseat pink Puch Maxi S

∙ Buddyseat.
∙ Pink.
∙ Complete with mounting parts.
∙ Length: 500mm.
∙ Width: 110/170mm.
∙ Height: 70/90mm.

Suitable for:

∙ Puch Maxi S.

€ 66,95

Buddyseat white snake Puch Maxi S

Buddyseat white snake Puch Maxi S

∙ Buddyseat.
∙ White snake model.
∙ Complete with mounting parts.
∙ Length: 500mm.
∙ Width: 110/170mm.
∙ Height: 70/90mm.

Suitable for:

∙ Puch Maxi S.

€ 69,95

Buddyseat yellow Puch Maxi S

Buddyseat yellow Puch Maxi S

∙ Buddyseat.
∙ Yellow.
∙ Complete with mounting parts.
∙ Length: 500mm.
∙ Width: 110/170mm.
∙ Height: 70/90mm.

Suitable for:

∙ Puch Maxi S.

€ 66,95

Puch saddle oldtimer universal creme

Puch saddle oldtimer universal creme

∙ Saddle.
∙ Oldtimer look.
∙ Creme color with black lines.

Measurements:

∙ Length: 310mm.
∙ Width: 210mm.
∙ Height: 80mm.

Suitable for:

∙ Puch Maxi.
∙ Puch Condor.

€ 42,95

Duo buddyseat universal black

Duo buddyseat universal black

∙ Duo buddyseat / rear seat.
∙ Black model.
∙ Easy to mount on the luggage carrier.
∙ Comes with mounting material.
∙ Universal.

Measurements:

∙ Length:28cm.
∙ Width:24cm.
∙ Height:7cm.

€ 27,90

Custom design cafe racer seat (MLM Puch universal)

Custom design cafe racer seat (MLM Puch universal)

∙ Has a nice rust patina! (Authentic natural rust aging)
∙ Has mounting holes to attach on the frame.
∙ Mounting holes on 225mm length and 100mm width.
∙ Total…

€ 59,00

Tabor Heavy Duty saddle black

Tabor Heavy Duty saddle black

∙ Saddle.
∙ Tabor Heavy Duty model.
∙ Black.
∙ Top-Qaulity!

Measurements saddle:

∙ Length:300mm.
∙ Width:225mm.
∙ Heigth:60mm.

Measurements with saddle frame:

∙ Length:430mm.
∙…

€ 148,50

Duo buddyseat universal white

Duo buddyseat universal white

∙ Duo buddyseat / rear seat.
∙ White model.
∙ Easy to mount on the luggage carrier.
∙ Comes with mounting material.
∙ Universal.

Measurements:

∙ Length:28cm.
∙ Width:24cm.
∙ Height:7cm.

€ 22,95

Saddle with studs black universal

Saddle with studs black universal

∙ Saddle.
∙ Black.
∙ Model with studs.
∙ Adjustable seat clamp on rails.
∙ Suitable for seat pin thickness of maximal 22mm.

Suitable for:

∙ Puch Maxi.
∙ Universal use.

€ 29,95

Seat Custom Design Cafe Racer Round Puch Maxi S MLM

Seat Custom Design Cafe Racer Round Puch Maxi S MLM

∙ Cafe Racer seat.
∙ Round model.
∙ Has a nice rust patina! (Authentic natural rust aging)
∙ With mounting bracket to mount the seat on the frame.
∙ Top-Qaulity!
∙…

€ 71,95

Seat Custom Design Cafe Racer Sqaure Puch Maxi S MLM

Seat Custom Design Cafe Racer Sqaure Puch Maxi S MLM

∙ Cafe Racer seat.
∙ Sqaure model.
∙ Has a nice rust patina! (Authentic natural rust aging)
∙ With mounting bracket to mount the seat on the frame.
∙ Top-Qaulity!
∙…

€ 81,95

Duo buddyseat universal red

Duo buddyseat universal red

∙ Duo buddyseat / rear seat.
∙ Red model.
∙ Easy to mount on the luggage carrier.
∙ Comes with mounting material.
∙ Universal.

Measurements:

∙ Length:28cm.
∙ Width:24cm.
∙ Height:7cm.

€ 22,95

Duo buddyseat with backrest universal black

Duo buddyseat with backrest universal black

∙ Duo buddyseat / rear seat.
∙ Model with backrest!
∙ Black model.
∙ Easy to mount on the luggage carrier.
∙ Comes with mounting material.
∙ Universal.

Measurements:

∙…

€ 40,95

Buddyseat Caferacer plastic black universal

Buddyseat Caferacer plastic black universal

∙ Buddyseat saddle
∙ Plastic.
∙ Black.
∙ Do it yourself.
∙ Universal.

Measurements:

∙ Length total: 600mm.
∙ Length seat: 300mm.
∙ Width total: 240mm.
∙ Width rear…

€ 89,95

Tabor Heavy Duty saddle cognac

Tabor Heavy Duty saddle cognac

∙ Saddle.
∙ Tabor Heavy Duty model.
∙ Cognac.
∙ Top-Qaulity!

Measurements saddle:

∙ Length:300mm.
∙ Width:225mm.
∙ Heigth:60mm.

Measurements with saddle frame:

∙…

€ 112,50

Tabor Heavy Duty saddle naturel

Tabor Heavy Duty saddle naturel

∙ Saddle.
∙ Tabor Heavy Duty model.
∙ Naturel.
∙ Top-Qaulity!

Measurements saddle:

∙ Length:300mm.
∙ Width:225mm.
∙ Heigth:60mm.

Measurements with saddle frame:

∙…

€ 112,50

Saddle Tabor Classic 240 black

Saddle Tabor Classic 240 black

∙ Saddle.
∙ Tabor Classic 240 model.
∙ Black.
∙ Top-Qaulity!

Measurements saddle:

∙ Length:300mm.
∙ Width:230mm.
∙ Height:70mm.

Measurements with saddle frame:

∙…

€ 113,50

Saddle Tabor Classic 240 naturel

Saddle Tabor Classic 240 naturel

∙ Saddle.
∙ Tabor Classic 240 model.
∙ Naturel.
∙ Top-Qaulity!

Measurements saddle:

∙ Length:300mm.
∙ Width:230mm.
∙ Height:70mm.

Measurements with saddle frame:

∙…

€ 113,50

Seat pan large Bobber Style! Black universal

Seat pan large Bobber Style! Black universal

∙ Saddle pan.
∙ Bobber Style!
∙ Black powdercoated!
∙ Universal.

Measurements:

∙ 14 "x 12.5",

Suitable for:

∙ Make the seat fit for your moped yourself!

€ 34,95

Saddle Bobber Style! small Diamond Black universal

Saddle Bobber Style! small Diamond Black universal

∙ Saddle / Seat.
∙ Small leather seat.
∙ Bobber Style!
∙ Diamond model.
∙ Black.
∙ Universal.

Measurements:

∙ Thickness: 40mm.
∙ Width: 240mm.
∙ Length:…

€ 72,95

Saddle Bobber Style! wide Diamond Black universal

Saddle Bobber Style! wide Diamond Black universal

∙ Saddle / Seat.
∙ Wide leather seat.
∙ Bobber Style!
∙ Diamond model.
∙ Black.
∙ Universal.

Measurements:

∙ Thickness: 40mm.
∙ Width: 345mm.
∙ Length:…

€ 74,95