Are you looking for a air filter or supplies for your Puch?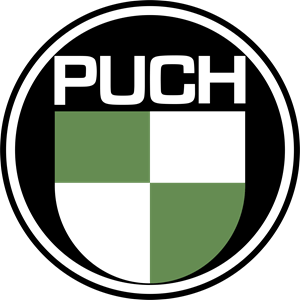 Here you will find our wide range of air filters and air filter parts for all Puch models such as Puch Maxi, Monza, Magnum X, Magnum, MV, VS, MS, DS. Choose from a standard airfilter, powerfilter, foamfilter, airfilter elements, etc. Suitable for your Street, Race and Cross Puch. You will also find all necessities such as suction rubber, hose clamps, filter oil and much more!
Have you not found your part or do you have questions about a part? Contact us for a quick response!
Airfilter Black complete Puch MS50 / MS50L / VS50

Airfilter Black complete Puch MS50 / MS50L / VS50

∙ Air filter box / Airbox.
∙ Black.
∙ Plastic.
∙ Replica model, Reproduction of original air filter Puch 1950s models.
∙ Complete set with inner filter!

Suitable…

€ 149,95

Airfilter Black complete Puch Monza / Grandprix

Airfilter Black complete Puch Monza / Grandprix

∙ Air filter box / Filterbox.
∙ Black.
∙ Plastic.
∙ Replica model.
∙ Complete set with inner filter!

Suitable for:

∙ Puch Monza.
∙ Puch Grandprix.

Identical to Puch…

€ 53,95

Airfilter case Black Original! Puch Cobra

Airfilter case Black Original! Puch Cobra

∙ Air filter casing.
∙ Bare metal housing.
∙ Black.
∙ N.O.S, New Old Stock Original Puch part!

Suitable for:

∙ Puch Cobra.

Identical to Puch article number

042.2.22.101.2-E3

€ 89,95

Suction rubber airfilter Round Puch MV / MS / VS

Suction rubber airfilter Round Puch MV / MS / VS

∙ Intake rubber / inlet funnel air filter.
∙ Round connection.

Measurements:

∙ Diameter carburetor connection: 17mm.
∙ Diameter airfilter connection: 53mm.

Suitable…

€ 6,95

Suction rubber airfilter round Puch MS / VS

Suction rubber airfilter round Puch MS / VS

∙ Intake rubber / inlet funnel air filter.
∙ Round connection.

Suitable for:

∙ For models up to1957.
∙ Puch MS50.
∙ Puch MS50L.
∙ Puch MS50V 1957.
∙ Puch VS50 1957.
∙…

€ 9,90

Bing suctionrubber clamp ring Puch MV/VS/DS

Bing suctionrubber clamp ring Puch MV/VS/DS

∙ Bing suctionrubber clamp ring.
∙ To clamp intake suctionrubber for Bing carburetor.
∙ For 60mm rubber.

Suitable for:

∙ Puch MV.
∙ Puch VS.
∙ Puch DS.

€ 3,95

Suction rubber airfilter Puch Monza 6SL JET

Suction rubber airfilter Puch Monza 6SL JET

∙ Intake rubber / inlet funnel air filter.

Suitable for:

∙ Puch Monza 6SL JET.

Identical to Puch article number:

337.1.15.414.1

€ 23,95

Suction rubber airfilter Puch Cobra / Jet 6

Suction rubber airfilter Puch Cobra / Jet 6

∙ Intake rubber / inlet funnel air filter.

Suitable for:

∙ Puch Cobra.
∙ Puch Jet 6.

Identical to Puch article number:

337.1.15.114.1

€ 39,95

Suction rubber airfilter Puch Magnum X / M50

Suction rubber airfilter Puch Magnum X / M50

∙ Intake rubber / inlet funnel air filter.

Pay attention! Fitment on airfilter is not very good!

Suitable for:

∙ Puch Magnum X.
∙ Puch M50.
∙ Puch M50 Racing.
∙ Puch…

€ 39,95

Suction rubber silencer airfilter Puch VS / DS / VZ

Suction rubber silencer airfilter Puch VS / DS / VZ

∙ Silencer intake rubber air filter.
∙ Without suction rubber hose.

Suitable for:

models with R Engine.

∙ Puch VS50R
∙ Puch DS50R
∙ Puch DS60R
∙ Puch VZ50R
∙…

€ 56,95

Suction rubber hose airfilter Puch VS / DS / VZ

Suction rubber hose airfilter Puch VS / DS / VZ

∙ Hose intake rubber air filter.

Suitable for:

models with R Engine.

∙ Puch VS50R
∙ Puch DS50R
∙ Puch DS60R
∙ Puch VZ50R
∙ Puch VZ50-4

Identical to Puch article…

€ 22,95

Airfilter element paper Puch Monza / Grand Prix

Airfilter element paper Puch Monza / Grand Prix

∙ Airfilterelement / filter element.
∙ Paper model.

Measurements:

∙ Outer diameter: 67-70mm.
∙ Inner diameter: 38.5mm.
∙ Height: 70mm.

Suitable for:

Puch 4 and 6 Gear…

€ 12,95

Airfilter element paper Puch Monza / Grand Prix

Airfilter element paper Puch Monza / Grand Prix

∙ Airtfilterelement / filter element.
∙ Paper model.

Measurements:

∙ Outer diameter: 67-70mm.
∙ Inner diameter: 20mm.
∙ Height: 70mm.

Suitable for:

Puch 4 and 6 Gear…

€ 13,95

Airfilter element paper Puch M50 JET / Cobra

Airfilter element paper Puch M50 JET / Cobra

∙ Airfilterelement / filter element.
∙ Paper model.

Measurements:

∙ Outer diameter: 75mm.
∙ Inner diameter: 42mm.
∙ Height: 120mm.

Suitable for:

∙ Puch M50 JET.
∙…

€ 21,95

Adapter intake rubber Puch Monza/Grand Prix

Adapter intake rubber Puch Monza/Grand Prix

∙ Adapter intake rubber.
∙ Also fits on a 12mm carburetor.

Measurements:

∙ Connection diameter:19.5mm.
∙ Outer diameter:64mm.

Suitable for:

∙ Puch Monza (Dutch…

€ 8,95

Suction rubber airfilter set complete (Dellorto PHBG)

Suction rubber airfilter set complete (Dellorto PHBG)

∙ Suction rubber airfilter set.
∙ Fits on original Dellorto PHBG and Replica carburetors.
∙ This filter can be used under the side covers (Does not fit in the frame…

€ 18,95

Suction rubber airfilter Dellorto PHBG carburetor

Suction rubber airfilter Dellorto PHBG carburetor

∙ Suction rubber airfilter.
∙ Fits on original Dellorto PHBG and Replica carburetors.
∙ This filter can be used under the side covers (Does not fit in the frame holes!)
∙…

€ 8,95

Airbox set complete Puch Maxi GPO (As Original)

Airbox set complete Puch Maxi GPO (As Original)

∙ Puch Maxi S/N.
∙ Fits on 10-15mm Bing/Bing Replica carburetors.
∙ As Original.
∙ GPO.

Complete set with:

∙ Airbox.
∙ Hose clamp.
∙ Airbox hose.
∙ 2x Airbox plugs.

€ 43,90

Hose mounting set airbox GPO Puch Maxi models

Hose mounting set airbox GPO Puch Maxi models

∙ Hose mounting set for air filter.
∙ As Original.
∙ GPO.

Complete set with:

∙ Air filter hose.
∙ Hose clamp.
∙ 2x Airfilter plug.
∙ 1x Small plug.

Suitable for:

∙…

€ 29,95

Airbox Puch Maxi GPO (As Original)

Airbox Puch Maxi GPO (As Original)

∙ Puch Maxi S/N.
∙ Fits on 10-15mm Bing/Bing Replica carburetors.
∙ Divisible.
∙ As Original.
∙ GPO.

€ 21,90

Airbox Puch Maxi (As Original)

Airbox Puch Maxi (As Original)

∙ Puch Maxi S/N.
∙ As Original.
∙ Fits on 10-15mm Bing/Bing Replica carburetors.

€ 10,90

Airbox Puch Manet/Z one (As Original)

Airbox Puch Manet/Z one (As Original)

∙ Puch Manet/Z one.
∙ As Original.
∙ Fits on all 10-15mm sqaure Bing carburetors.
∙ Connection filter:28mm.
∙ With 20mm Bush.

*Doesn't fit on a Puch Maxi!

€ 9,95

Airfilter plug Puch Maxi

Airfilter plug Puch Maxi

∙ Airfilter plug.
∙ Plastic plug for original and replica air filters.

Suitable for:

∙ Puch Maxi S/N.

€ 2,95

Powerfilter (For 19mm Bing carburetors)

Powerfilter (For 19mm Bing carburetors)

∙ Fits on 19mm Bing/Bing Replica carburetors.
∙ Connection diameter:26mm.
∙ Diameter foam:60mm.
∙ Length without rubber:47mm.
∙ Length:110mm.

€ 7,95

Airfilter Blue (For 19mm Bing carburetors)

Airfilter Blue (For 19mm Bing carburetors)

∙ Blue.
∙ Fits on 19mm Bing/Bing Replica carburetors.
∙ Connection diameter:26mm.
∙ Diameter foam:60mm.
∙ Length without rubber:50mm.
∙ Length:110mm.

€ 9,50

Powerfilter (For 10-15mm Bing carburetors)

Powerfilter (For 10-15mm Bing carburetors)

∙ Fits on 10-15mm Bing/Bing Replica carburetors.
∙ Connection diameter:20mm.
∙ Diameter foam:60mm.
∙ Length without rubber:47mm.
∙ Length:110mm.

€ 6,95

Airfilter Black (For 10-15mm Bing carburetors)

Airfilter Black (For 10-15mm Bing carburetors)

∙ Black.
∙ Fits on 10-15mm Bing/Bing Replica carburetors.
∙ Connection diameter:20mm.
∙ Diameter foam:60mm.
∙ Length without rubber:50mm.
∙ Length:110mm.

€ 8,90

Airfilter Blue (For 10-15mm Bing carburetors)

Airfilter Blue (For 10-15mm Bing carburetors)

∙ Blue.
∙ Fits on 10-15mm Bing/Bing Replica carburetors.
∙ Connection diameter:20mm.
∙ Diameter foam:60mm.
∙ Length without rubber:50mm.
∙ Length:110mm.

€ 8,50

Airfilter Red (For 10-15mm Bing carburetors)

Airfilter Red (For 10-15mm Bing carburetors)

∙ Red.
∙ Fits on 10-15mm Bing/Bing Replica carburetors.
∙ Connection diameter:20mm.
∙ Diameter foam:60mm.
∙ Length without rubber:50mm.
∙ Length:110mm.

€ 8,95

Powerfilter 45 degrees angled 32mm chrome

Powerfilter 45 degrees angled 32mm chrome

∙ Chrome.
∙ Connection diameter:32mm.
∙ For Dellorto PHBG and replica carburettors.
∙ Diameter filter:60mm.
∙ Length filter without rubber:50mm.

€ 7,50

Powerfilter 45 degrees angled 35mm chrome

Powerfilter 45 degrees angled 35mm chrome

∙ Chrome.
∙ Connection diameter:35mm.
∙ For Dellorto PHBG and replica carburettors.
∙ Diameter filter:60mm.
∙ Length filter without rubber:50mm.

€ 8,95

Powerfilter 45 degrees angled 35mm black

Powerfilter 45 degrees angled 35mm black

∙ Black.
∙ Connection diameter:35mm.
∙ For Dellorto PHBG and replica carburetors.
∙ Diameter of the filter:60mm.
∙ Length filter without rubber:48mm.

€ 8,50

Powerfilter Straight 38mm Black Malossi E5 Universal

Powerfilter Straight 38mm Black Malossi E5 Universal

∙ Powerfilter / Foamfilter / Airfilter / Filter.
∙ Straight.
∙ Black model.
∙ Including noise cover.
∙ Malossi E5.

Measurements:

∙ Connection diameter:…

€ 23,95

Athena foam filter 45 degrees (35mm)

Athena foam filter 45 degrees (35mm)

∙ Black/Chrome.
∙ 45 degrees.
∙ Connectiondiameter:35mm.
∙ Diameter foam:75mm.
∙ Length without rubber:60mm.
∙ Length with rubber:105mm.

€ 10,95

Athena foam filter (30mm)

Athena foam filter (30mm)

∙ Black/Chrome.
∙ Connectiondiameter:30mm.
∙ Diameter foam:75mm.
∙ Length without rubber:60mm.
∙ Length with rubber:80mm.

€ 11,50

Airfilter Athena red 90 degrees (30mm)

Airfilter Athena red 90 degrees (30mm)

∙ Red.
∙ 90 degrees.
∙ Connection diameter:30mm.
∙ Diameter foam:80mm.
∙ Length without rubber:85mm.
∙ Length with rubber:140mm.
∙ Athena.

€ 11,90

Airfilter Athena red 90 degrees (35mm)

Airfilter Athena red 90 degrees (35mm)

∙ Red.
∙ 90 degrees.
∙ Connection diameter:35mm.
∙ Diameter foam:80mm.
∙ Length without rubber:85mm.
∙ Length with rubber:140mm.
∙ Athena.

€ 10,90

Airfilter Red 40mm

Airfilter Red 40mm

∙ Airfilter.
∙ Red.
∙ Straight model.
∙ Connection diameter: 40mm.

€ 9,95

Airfilter Red 35mm

Airfilter Red 35mm

∙ Airfilter.
∙ Red.
∙ Straight model.
∙ Connection diameter: 35mm.

€ 9,95

Airfilter Red 28mm

Airfilter Red 28mm

∙ Airfilter.
∙ Red.
∙ Straight model.
∙ Connection diameter: 28mm.

€ 9,95

Airfilter blue 45 degrees angled (28/35mm)

Airfilter blue 45 degrees angled (28/35mm)

∙ Blue.
∙ 45 degrees angled.
∙ Connection diameter:28mm and 35mm.
∙ Diameter foam:75mm.
∙ Lengte without rubber:60mm.
∙ Lengte with rubber:100mm.

€ 14,99

Airfilter yellow 45 degrees angled (30/35mm)

Airfilter yellow 45 degrees angled (30/35mm)

∙ Yellow
∙ 45 degrees angled.
∙ Connection diameter:30mm and 35mm.
∙ Diameter foam:75mm.
∙ Lengte without rubber:60mm.
∙ Lengte with rubber:100mm.

€ 10,90

Airfilter Power One (20mm-28mm)

Airfilter Power One (20mm-28mm)

∙ Blue.
∙ Power One.
∙ Fits on 10-15mm Bing/Bing Replica carburetors.
∙ Connection diameter:20mm or 28mm.
∙ Diameter foam:50mm to 70mm.
∙ Length without rubber:100mm.
∙ Total Length:120mm.

€ 12,95