Are you looking for a exhaust or supplies for your Puch?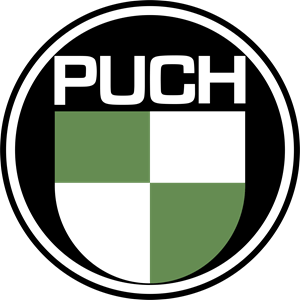 Here you will find our wide range of exhaust and exhaust parts for all Puch models such as Puch Maxi, Monza, Magnum X, Magnum, MV, VS, MS, DS. Choose from a standard or Race exhaust from various brands like Homoet, Tecno Jamacrol, Simonini Fuego, etc. Suitable for your Street, Race and Cross Puch. You will also find all necessities for mounting the exhaust, silencers and much more!
Have you not found your part or do you have questions about a part? Contact us for a quick response!
Exhaust Tecno Snake black 28mm (High model) Puch Maxi

Exhaust Tecno Snake black 28mm (High model) Puch Maxi

∙ Exhaust.
∙ Tecno Snake model.
∙ This exhaust goes up along Puch Maxi.
∙ Black.
∙ Exhaust with a nice sound.
∙ Suitable for standard 50cc and 70cc cylinder!

Pay…

€ 64,50

Exhaust Jamacrol Sidepipe 60mm black 28mm Puch Maxi

Exhaust Jamacrol Sidepipe 60mm black 28mm Puch Maxi

∙ Exhaust.
∙ Sidepipe model!
∙ Black.
∙ Exhaust mounting slotted for easy mounting.
∙ Exhaust with a nice throaty sound.
∙ Jamacrol.

Measurements:

∙ Total…

€ 108,95

Exhaust Jamacrol Sidepipe 60mm chrome 28mm Puch Maxi

Exhaust Jamacrol Sidepipe 60mm chrome 28mm Puch Maxi

∙ Exhaust.
∙ Sidepipe model!
∙ Chrome.
∙ Exhaust mounting slotted for easy mounting.
∙ Exhaust with a nice throaty sound.
∙ Jamacrol.

Measurements:

∙ Total…

€ 108,95

OFFER!

Exhaust chrome 28mm (Homoet P6 Model)

Exhaust chrome 28mm (Homoet P6 Model)

∙ Exhaust.
∙ Model as Homoet P6.
∙ Chrome!

*Fits best on stock and tuned 70cc Cylinders and on a 72cc Airsal Cylinder!

Measurements:

∙ Length: 890mm.
∙ Outer diameter:28mm.
∙…

€ 310,00 € 275,00

NEW!

Exhaust blank 28mm (Homoet P6 Model)

Exhaust blank 28mm (Homoet P6 Model)

∙ Exhaust.
∙ Model as Homoet P6.
∙ Blank.

*Fits best on stock and tuned 70cc Cylinders and on a 72cc Airsal Cylinder!

Measurements:

∙ Length: 890mm.
∙ Outer diameter:28mm.
∙…

€ 149,95

Exhaust Bullet Race EVO-1 black 28mm Puch Maxi

Exhaust Bullet Race EVO-1 black 28mm Puch Maxi

∙ Exhaust.
∙ Bullet Race EVO-1.
∙ Black model.
∙ Exhaust with a good sound.
∙ Suitable for standard and tuned 70cc cylinder and the 72cc Airsal…

€ 129,00

Exhaust Bullet Race EVO-1 blank 28mm Puch Maxi

Exhaust Bullet Race EVO-1 blank 28mm Puch Maxi

∙ Exhaust.
∙ Bullet Race EVO-1.
∙ Blank model.
∙ Exhaust with a good sound.
∙ Suitable for standard and tuned 70cc cylinder and the 72cc Airsal…

€ 139,95

OFFER!

Exhaust curled black 28mm (Homoet Model) Puch Maxi

Exhaust curled black 28mm (Homoet Model) Puch Maxi

∙ Model:Puch Maxi S/N.
∙ Curled model.
∙ Mounted on the engine mounting bolt.
∙ Doesn't fit with a centerstand.
∙ Faster and more quiet than original.
∙ Black…

€ 169,00 € 145,95

OFFER!

Exhaust curled blank 28mm (Homoet Model) Puch Maxi

Exhaust curled blank 28mm (Homoet Model) Puch Maxi

∙ Model:Puch Maxi S/N.
∙ Curled model.
∙ Mounted on the engine mounting bolt.
∙ Doesn't fit with a centerstand.
∙ Faster and more quiet than original.
∙ Blank…

€ 154,90 € 139,95

OFFER!

Simonini chrome carbon Exhaust

Simonini chrome carbon Exhaust

∙ For Puch maxi.
∙ For all 70cc en 72cc cylinders.
∙ Steel with clearcoat.
∙ Chrome carbon muffler.
∙ Simonini Racing.

€ 149,95 € 145,00

OFFER!

Simonini Kevlar Exhaust

Simonini Kevlar Exhaust

∙ For Puch maxi.
∙ For all 70cc en 72cc cylinders.
∙ Steel with clearcoat.
∙ Kevlar muffler.
∙ Simonini Racing.

€ 149,95 € 145,00

OFFER!

Simonini aluminium Exhaust

Simonini aluminium Exhaust

∙ For Puch maxi.
∙ For all 70cc en 72cc cylinders.
∙ Steel with clearcoat.
∙ Aluminium muffler.
∙ Simonini Racing.

€ 139,95 € 135,95

OFFER!

Simonini carbon Exhaust

Simonini carbon Exhaust

∙ For Puch maxi.
∙ For all 70cc en 72cc cylinders.
∙ Steel with clearcoat.
∙ Carbon muffler.
∙ Simonini Racing.

€ 149,95 € 145,00

Exhaust Tecno Circuit chrome 25mm Puch Maxi

Exhaust Tecno Circuit chrome 25mm Puch Maxi

∙ Exhaust.
∙ Tecno Circuit.
∙ Chrome with aluminium silencer.
∙ Exhaust with a good sound.
∙ Suitable for 50cc and 70cc cylinders.
∙ A lot of torque.

Suitable for:

∙ Puch Maxi.

€ 68,50

Exhaust Tecno Circuit black 25mm Puch Maxi

Exhaust Tecno Circuit black 25mm Puch Maxi

∙ Exhaust.
∙ Tecno Circuit.
∙ Black with aluminium silencer.
∙ Exhaust with a good sound.
∙ Suitable for 50cc and 70cc cylinders.
∙ A lot of torque.

Suitable for:

∙ Puch Maxi.

€ 68,50

Fuego Cross exhaust chrome (28mm)

Fuego Cross exhaust chrome (28mm)

∙ 28mm connection.
∙ Chrome.
∙ Total length:930mm.
∙ Outer diameter:28mm.
∙ Inner diameter:25mm.

€ 53,95

Fuego Cross exhaust black (28mm)

Fuego Cross exhaust black (28mm)

∙ 28mm connection.
∙ Black.
∙ Total length:930mm.
∙ Outer diameter:28mm.
∙ Inner diameter:25mm.

€ 44,25

Exhaust Tecno Bos black 28mm Puch Maxi

Exhaust Tecno Bos black 28mm Puch Maxi

∙ Exhaust.
∙ Tecno Bos.
∙ Black.
∙ Suitable for 50cc and 70cc cylinders.

Measurements:

∙ Outer diameter:28mm.
∙ Inner diameter:25mm.
∙ Total length:840mm.

Suitable for:

∙ Puch Maxi.

€ 42,95

Tecno Bos exhaust (28mm)

Tecno Bos exhaust (28mm)

∙ Model:Puch Maxi.
∙ Chrome.
∙ For 50cc en 70cc cylinders.
∙ Outer diameter:28mm.
∙ Inner diameter:25mm.
∙ Total length:840mm.

€ 35,95

Bullit blank exhaust (28mm)

Bullit blank exhaust (28mm)

∙ Blank.
∙ With Aluminium Silencer.
∙ 28mm manifold.
∙ Total length:870mm.

€ 33,50

Bullit chrome exhaust (28mm)

Bullit chrome exhaust (28mm)

∙ Chrome.
∙ With Aluminium Silencer.
∙ 28mm manifold.
∙ Total length:870mm.

€ 34,95

Jamacrol GP-Mini Exhaust (25mm)

Jamacrol GP-Mini Exhaust (25mm)∙ Model:Puch Maxi.
∙ Black.
∙ Good exhaust for 50cc cylinders.
∙ Outer diameter:25mm.
∙ Inner diameter:22mm.
∙ Total length:770mm.

€ 33,95

Exhaust pipe black Puch Maxi

Exhaust pipe black Puch Maxi

∙ Exhaust.
∙ Big pipe!
∙ Black model (Scratches are possible)
∙ Exhaust with a good sound.
∙ Suitable for standard and tuned 70cc cylinder and the 72cc Airsal cylinder!

Suitable for:

∙ Puch Maxi.

€ 199,95

Exhaust pipe blank Puch Maxi

Exhaust pipe blank Puch Maxi

∙ Exhaust.
∙ Big pipe!
∙ Blank model.
∙ Exhaust with a good sound.
∙ 5 Mounting points.
∙ Suitable for standard and tuned 70cc cylinder and the 72cc Airsal cylinder!

Suitable for:

∙ Puch Maxi.

€ 199,95

New!

Exhaust RS Cigar black powdercoated 28mm Puch Maxi

Exhaust RS Cigar black powdercoated 28mm Puch Maxi

∙ Exhaust.
∙ RS Cigar model.
∙ Complete with manifold and clamp.
∙ Black powdercoated.

Measurements:

∙ Length total: 950mm.
∙ Length manifold: 250mm.
∙ Length end…

€ 74,90

Exhaust RS Cigar chrome 28mm Puch Maxi

Exhaust RS Cigar chrome 28mm Puch Maxi

∙ Exhaust.
∙ RS Cigar model.
∙ Complete with manifold and clamp.
∙ Chrome.

Measurements:

∙ Length total: 950mm.
∙ Length manifold: 250mm.
∙ Length end piece: 700mm.
∙ Outer…

€ 34,90

Exhaust RS Cigar Black 28mm Puch Maxi

Exhaust RS Cigar Black 28mm Puch Maxi

∙ Exhaust.
∙ RS Cigar model.
∙ Complete with manifold and clamp.
∙ Black!

Measurements:

∙ Length total: 950mm.
∙ Length manifold: 250mm.
∙ Length end piece: 700mm.
∙ Outer…

€ 48,90

MLM Cali exhaust black flat port 28mm Puch Maxi

MLM Cali exhaust black flat port 28mm Puch Maxi

∙ Exhaust.
∙ MLM Cali.
∙ Flat port.
∙ Black powdercoated.

*Suitable for standard cylinders (Polini, Athena, Airsal etc)

Measurements:

∙ Total length: 940mm.
∙ Outer…

€ 289,00

Exhaust MLM stock black angled port Puch Magnum

Exhaust MLM stock black angled port Puch Magnum

∙ Exhaust.
∙ Angled port.
∙ For stock Magnum cylinder.
∙ Hand tig welded all around.
∙ Black powdercoated.
∙ MLM Stock.

Suitable for:

∙ Puch Magnum.

€ 219,00

Exhaust MLM Peoples Pipe black angled port Puch Magnum

Exhaust MLM Peoples Pipe black angled port Puch Magnum

∙ Exhaust.
∙ Angled port.
∙ For stock Magnum cylinder.
∙ Good powerband for 50cc and 70cc cylinder!
∙ Hand tig welded all around.
∙ Black powdercoated.
∙ MLM…

€ 219,00

Exhaust original model Puch Magnum X

Exhaust original model Puch Magnum X

∙ Exhaust.
∙ Standard/original model.
∙ Black, heat resistant.
∙ Mounting points are M6.

Suitable for:

∙ Puch Magnum X.

€ 249,00

Exhaust Tecnigas Next chrome 28mm Puch Maxi

Exhaust Tecnigas Next chrome 28mm Puch Maxi

∙ Exhaust.
∙ Chrome.
∙ Aluminium silencer.

Measurements:

∙ Outer diameter:28mm.
∙ Inner diameter:25mm.
∙ Total length:900mm.

Suitable for:

∙ Puch Maxi.

€ 134,95

Exhaust Tecnigas Next blank 28mm Puch Maxi

Exhaust Tecnigas Next blank 28mm Puch Maxi

∙ Exhaust.
∙ Blank metal.
∙ Aluminium silencer.

Measurements:

∙ Outer diameter:28mm.
∙ Inner diameter:25mm.
∙ Total length:900mm.

Suitable for:

∙ Puch Maxi.

€ 119,95

Exhaust Tecno Estoril 28mm Puch Maxi

Exhaust Tecno Estoril 28mm Puch Maxi

∙ Exhaust.
∙ Blank metal.
∙ Aluminium silencer.

Measurements:

∙ Outer diameter:28mm.
∙ Inner diameter:25mm.
∙ Total length:800mm.

Suitable for:

∙ Puch Maxi.

€ 96,95

Exhaust chrome 22mm Puch DS50 / Alabama

Exhaust chrome 22mm Puch DS50 / Alabama

∙ Exhaust.
∙ Chrome.

Measurements:

∙ Diameter silencer: 56mm.
∙ Inner diameter: 22mm.

Suitable for:

∙ Puch DS50.
∙ Puch Alabama.

€ 129,95

Exhaust chrome 22mm Puch VZ50 / Dakota

Exhaust chrome 22mm Puch VZ50 / Dakota

∙ Exhaust.
∙ Chrome.

Measurements:

∙ Total length: 820mm.
∙ Outer diameter: 22mm.
∙ Inner diameter: 20mm.

Suitable for:

∙ Puch VZ50.
∙ Puch Dakota.

€ 99,95

Exhaust chrome 22mm Puch VS50 / MS50

Exhaust chrome 22mm Puch VS50 / MS50

∙ Exhaust.
∙ Chrome.

Measurements:

∙ Total length: -mm.
∙ Outer diameter: 22mm.
∙ Inner diameter: 20mm.

Suitable for:

∙ Puch VS50.
∙ Puch MS50.

€ 119,95

Exhaust Chrome NL 22mm Puch MV50 / MS50V

Exhaust Chrome NL 22mm Puch MV50 / MS50V

∙ Exhaust.
∙ Chrome.
∙ Used on a lot of Puch MV50 models from the Netherlands!

Measurements:

∙ Total length: -mm.
∙ Outer diameter: 22mm.
∙ Inner diameter: 20mm.

Suitable…

€ 69,95

Exhaust silencer black universal Puch 60mm (28mm)

Exhaust silencer black universal Puch 60mm (28mm)

∙ Exhaust silencer.
∙ Universal.
∙ Complete with mounting clamp.
∙ Black.
∙ 28mm Connection.

Measurements:

∙ Total length: 550mm.
∙ Inner diameter: 28mm.
∙…

€ 63,90

Exhaust silencer Puch Monza

Exhaust silencer Puch Monza

∙ Exhaust silencer.
∙ Chrome.

Measurements:

∙ Total length:660mm.
∙ Inner diameter:29.5mm.

Suitable for:

∙ Puch Monza.
∙ Puch Dakota 3000.
∙ Puch Nevada.
∙ Puch Montana.
∙ Puch Arizona.

€ 85,00

Exhaust silencer universal Puch 60mm (28mm)

Exhaust silencer universal Puch 60mm (28mm)

∙ Exhaust silencer.
∙ Universal.
∙ Complete with clamp.
∙ Chrome.
∙ 28mm connection.

Measurements:

∙ Total length:550mm.
∙ Inner diameter:28mm.
∙…

€ 51,95

Exhaust silencer universal Puch 70mm (28mm)

Exhaust silencer universal Puch 70mm (28mm)

∙ Exhaust silencer.
∙ Universal.
∙ Without exhaust clamp.
∙ Chrome.
∙ 28mm connection.

Measurements:

∙ Total length:700mm.
∙ Inner diameter:28mm.
∙…

€ 42,95

Exhaust silencer cigar Puch MV50 (28mm)

Exhaust silencer cigar Puch MV50 (28mm)

∙ Exhuast silencer.
∙ Cigar model.
∙ Chrome.
∙ 28mm connection.

Measurements:

∙ Total length:700mm.
∙ Inner diameter:28mm.

Suitable for:

∙ Puch MV50.

€ 49,95

Exhaust silencer Puch MV/VS (28mm)

Exhaust silencer Puch MV/VS (28mm)

∙ Exhaust silencer.
∙ Chrome.
∙ 28mm connection.

Measurements:

∙ Total length:695mm.
∙ Inner diameter:28mm.

Suitable for:

∙ Puch MV.
∙ Puch VS.

€ 37,50

Exhaust manifold 28mm black powdercoated Puch Maxi S/N

Exhaust manifold 28mm black powdercoated Puch Maxi S/N

∙ Exhaust manifold.
∙ Left side.
∙ 28mm.
∙ Black powdercoated.

Measurements:

∙ Length total: 250mm.
∙ Outer diameter: 28mm.
∙ Inner diameter: 25mm.

Suitable…

€ 21,95

Exhaust manifold steel 28mm (Puch Maxi S/N)

Exhaust manifold steel 28mm (Puch Maxi S/N)

∙ For Puch Maxi S/N.
∙ Left side.
∙ For selfbuild exhaust, painting or welding.
∙ Steel.

Measurements:

∙ Outer diameter:28mm.
∙ Inner diameter:25mm.

€ 9,90

Exhaust manifold steel low 25mm (Puch Maxi S/N)

Exhaust manifold steel low 25mm (Puch Maxi S/N)

∙ For Puch Maxi S/N.
∙ Low model.
∙ Left side.
∙ For selfbuild exhaust, painting or welding.
∙ Similar to the exhaust manifold from a Biturbo exhaust.
∙…

€ 9,95

Exhaust manifold Puch DS50 (28mm)

Exhaust manifold Puch DS50 (28mm)

∙ Exhaust manifold.
∙ Chrome.

Measurements:

∙ Inner diameter:25mm.
∙ Outer diameter:28mm.

Suitable for:

∙ Puch DS50.

€ 21,95

Exhaust manifold Puch Monza/X50 (28mm)

Exhaust manifold Puch Monza/X50 (28mm)

∙ Exhaust manifold.
∙ Chrome.

Measurements:

∙ Inner diameter:25mm.
∙ Outer diameter:28mm.

Suitable for:

∙ Puch Monza.
∙ Puch X50.

€ 27,95

Exhaust manifold Puch Monza/X50 (32mm)

Exhaust manifold Puch Monza/X50 (32mm)

∙ Exhaust manifold.
∙ Chrome.

Measurements:

∙ Inner diameter:29mm.
∙ Outer diameter:32mm.

Suitable for:

∙ Puch Monza.
∙ Puch X50.

€ 23,95

Exhaust manifold Puch MS/VS (20mm)

Exhaust manifold Puch MS/VS (20mm)

∙ Exhaust manifold.
∙ Chrome.

Measurements:

∙ Inner diameter:20mm.
∙ Outer diameter:18mm.

Suitable for:

∙ Puch MS.
∙ Puch VS.

€ 12,95

Exhaust manifold Puch MV/VS (28mm)

Exhaust manifold Puch MV/VS (28mm)

∙ Exhaust manifold.
∙ Chrome.

Measurements:

∙ Inner diameter:28mm.
∙ Outer diameter:25mm.

Suitable for:

∙ Puch MV.
∙ Puch VS.

€ 18,95

Exhaust manifold Puch DS50/Alabama (22mm)

Exhaust manifold Puch DS50/Alabama (22mm)

∙ Exhaust manifold.
∙ Chrome.

Measurements:

∙ Inner diameter:18mm.
∙ Outer diameter:22mm.

Suitable for:

∙ Puch DS50.
∙ Puch Alabama.

€ 29,95

Exhaust manifold Puch MV/VS (22mm)

Exhaust manifold Puch MV/VS (22mm)

∙ Exhaust manifold.
∙ Chrome.

Measurements:

∙ Inner diameter:22mm.
∙ outer diameter:18mm.

Suitable for:

∙ Puch VS50.
∙ Puch VS50L.
∙ Puch VS50D.
∙ Puch MS50V.
∙ Puch MS25.

€ 29,95

Exhaust manifold Puch Monza (22mm)

Exhaust manifold Puch Monza (22mm)

∙ Exhaust manifold.
∙ Chrome.

Measurements:

∙ Inner diameter:22mm.
∙ Outer diameter:18mm.

Suitable for:

∙ Puch Monza.

€ 25,95

Heatwrap exhaust purple (10 Meter)

Heatwrap exhaust purple (10 Meter)

∙ Heatwrap exhaust.
∙ Length: 10 Meter.
∙ Width: 5cm.
∙ Purple.
∙ Complete with 6 stainless steel clamps.
∙ Universal.

€ 21,95

Heatwrap exhaust green (10 Meter)

Heatwrap exhaust green (10 Meter)

∙ Heatwrap exhaust.
∙ Length: 10 Meter.
∙ Width: 5cm.
∙ Green.
∙ Complete with 6 stainless steel clamps.
∙ Universal.

€ 21,95

Heatwrap exhaust black (5 Meter)

Heatwrap exhaust black (5 Meter)

∙ Heatwrap exhaust.
∙ Length:5 Meter.
∙ Width:5cm.
∙ Black.
∙ Complete with 6 stainless steel clamps.
∙ Universal.

€ 18,95

Heatwrap exhaust titanium (5 Meter)

Heatwrap exhaust titanium (5 Meter)

∙ Heatwrap exhaust.
∙ Length:5 Meter.
∙ Width:5cm.
∙ Titanium.
∙ Complete with 6 stainless steel clamps.
∙ Universal.

€ 18,95

Heatwrap exhaust green (5 Meter)

Heatwrap exhaust green (5 Meter)

∙ Heatwrap exhaust.
∙ Length:5 Meter.
∙ Width:5cm.
∙ Green.
∙ Complete with 6 stainless steel clamps.
∙ Universal.

€ 21,95