Are you looking for a cylinder for your Puch?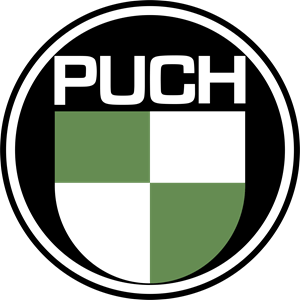 Here you will find our wide range of cylinders for all Puch models such as Puch Maxi, Monza, Magnum X, Magnum, MV, VS, MS, DS. Choose from a standard or Race cylinder from different brand like Italkit, Parmakit, Airsal, Polini, DMP, Metrakit and more. Suitable for your Street, Race and Cross Puch!
Have you not found your part or do you have questions about a part? Contact us for a quick response!
Top Product!

Gilardoni / Italkit cylinder set 74cc (47mm) Puch Maxi

Gilardoni / Italkit cylinder set 74cc (47mm) Puch Maxi∙ Gilardoni / Italkit cylinder set 74cc (47mm)
∙ 1 of the fastest cylinder on the market!

Data:

∙ Cylinder capacity: 74cc.
∙ Bore: 47mm.
∙ Piston pin: 12mm.
∙…

€ 299,00

Airsal cylinder 70cc NM (45mm) Puch Maxi

Airsal cylinder 70cc NM (45mm) Puch Maxi

∙ Airsal cylinder 70cc NM (45mm)
∙ Good allround cylinder!

Data:

∙ Cylinder capacity: 70cc.
∙ Bore: 45mm.
∙ Piston pin: 12mm.
∙ NM, New model (Model with big cooling…

€ 68,90

Airsal cylinder 70cc OM (45mm) Puch Maxi

Airsal cylinder 70cc OM (45mm) Puch Maxi

∙ Airsal cylinder 70cc OM (45mm)
∙ Good allround cylinder!

Data:

∙ Cylinder capacity: 70cc.
∙ Bore: 45mm.
∙ Piston pin: 12mm.
∙ OM, Old model (Model with small cooling…

€ 66,90

Airsal cylinder 65cc OM (44mm) Puch Maxi

Airsal cylinder 65cc OM (44mm) Puch Maxi∙ Airsal cylinder 65cc OM (44mm)
∙ Good allround cylinder!

Data:

∙ Cylinder capacity: 65cc.
∙ Bore: 44mm.
∙ Piston pin: 12mm.
∙ OM, Old model (Model with small cooling…

€ 72,90

Airsal cylinder 50cc NM (38mm) Puch Maxi

Airsal cylinder 50cc NM (38mm) Puch Maxi∙ Airsal cylinder 50cc NM (38mm)
∙ Good allround cylinder!
∙ Fast version!

Data:

∙ Cylinder capacity: 50cc.
∙ Bore: 38mm.
∙ Piston pin: 12mm.
∙ NM, New model (Model with big…

€ 69,50

Airsal cylinder 50cc OM (38mm) Puch Maxi

Airsal cylinder 50cc OM (38mm) Puch Maxi

∙ Airsal cylinder 50cc OM (38mm)
∙ Good allround cylinder!
∙ Fast version!

Data:

∙ Cylinder capacity: 50cc.
∙ Bore: 38mm.
∙ Piston pin: 12mm.
∙ OM, Old model (Model with…

€ 69,90

Airsal cylinder 50cc OM 25Kmh (38mm) Puch Maxi

Airsal cylinder 50cc OM 25Kmh (38mm) Puch Maxi

∙ Airsal cylinder 50cc OM (38mm)
∙ Good allround cylinder!
∙ 25Kmh model!

Data:

∙ Cylinder capacity: 50cc.
∙ Bore: 38mm.
∙ Piston pin: 12mm.
∙ OM, Old model (Model…

€ 64,90

OFFER!

Metrakit cylinder 65cc OM (43.5mm) Puch Maxi

Metrakit cylinder 65cc OM (43.5mm) Puch Maxi∙ Cylinder.
∙ Very strong cylinder with a lot of torque!
∙ A 20mm carburetor is possible due the large inlet port!

For the perfect timing use 2 feet gaskets!

Data:

∙ Cylinder…

€ 110,00 € 93,95

OFFER!

OFFER!

Parmakit cylinder 70cc NM (45mm) Top-Qaulity! Puch Maxi

Parmakit cylinder 70cc NM (45mm) Top-Qaulity! Puch Maxi

∙ Parmakit cylinder 70cc NM (45mm)
∙ Very fast cylinder with big ports!
∙ A lot of tuning potential.
∙ Top-Qaulity!
∙ Parmakit, Made in Italy!

Data:

∙ Cylinder…

€ 224,90

Parmakit cylinder 70cc OM (45mm) Top-Qaulity! Puch Maxi

Parmakit cylinder 70cc OM (45mm) Top-Qaulity! Puch Maxi∙ Parmakit cylinder 70cc NM (45mm)
∙ Very fast cylinder with big ports!
∙ A lot of tuning potential.
∙ Top-Qaulity!
∙ Parmakit, Made in Italy!

Data:

∙ Cylinder…

€ 214,90

Malossi cylinder 60cc OM (42mm) Top-Qaulity! Puch Maxi

Malossi cylinder 60cc OM (42mm) Top-Qaulity! Puch Maxi∙ Malossi cylinder 60cc OM (42mm)
∙ Top-Qaulity!
∙ Malossi!

Data:

∙ Cylinder capacity: 60cc.
∙ Bore: 42mm.
∙ Outer diameter cylinder base: -.
∙ Piston pin:…

€ 329,00

OFFER!

50cc cylinder 38mm 5.5PK black Puch Magnum X/Monza

50cc cylinder 38mm 5.5PK black Puch Magnum X/Monza

∙ 50cc cylinder (38mm)
∙ Pistonpin 12mm!
∙ Aluminium with steel insert.
∙ 5.5PK.
∙ Black model.

Complete set with:

∙ Cylinder (38mm)
∙ Piston.
∙ Piston…

€ 149,95

50cc cylinder 38mm 5.5PK Puch Magnum X/Monza

50cc cylinder 38mm 5.5PK Puch Magnum X/Monza

∙ 50cc cylinder (38mm)
∙ Pistonpin 12mm!
∙ Aluminium with steel insert.
∙ 5.5PK.

Complete set with:

∙ Cylinder (38mm)
∙ Piston.
∙ Piston rings.
∙ Piston pin…

€ 149,95

60cc cylinder 40mm Puch Magnum X/Monza

60cc cylinder 40mm Puch Magnum X/Monza

∙ 60cc cylinder (40mm)
∙ Pistonpin 12mm!
∙ Aluminium with steel insert.

Complete set with:

∙ Cylinder (40mm)
∙ Piston.
∙ Piston rings.
∙ Piston pin (12mm)
∙ Piston…

€ 149,95

Cylinder 65cc ESO Bigbore (43.5mm) Puch Maxi

Cylinder 65cc ESO Bigbore (43.5mm) Puch Maxi

∙ Cylinder 65cc (43.5mm)
∙ Bigbore kit!
∙ Big inlet and exhaust port.
∙ Round inlet.
∙ ESO.

Data:

∙ Cylinder capacity:65cc.
∙ Bore:43.5mm.
∙ Piston pin:12mm.
∙…

€ 129,95

Cylinder 70cc Reed valve Especiale (45mm) Puch Maxi

Cylinder 70cc Reed valve Especiale (45mm) Puch Maxi

∙ Cylinder 70cc (45mm)
∙ Big Ports!
∙ Reed valve inlet.
∙ Flat exhaust port.
∙ Suitable for Polini inlet parts (Reed valve and manifold)
∙ Especiale.

Data:

∙…

€ 129,00

Cylinder 50cc Metrakit (38mm) Puch Maxi

Cylinder 50cc Metrakit (38mm) Puch Maxi

∙ Cylinder 50cc (38mm)
∙ Big inlet and exhaust port! (Same size ports as the 80cc model!)
∙ Round inlet.
∙ Metrakit.

Data:

∙ Cylinder capacity:50cc.
∙ Bore:38mm.
∙ Piston…

€ 319,00

50cc stock cylinder (38mm NM)

50cc stock cylinder (38mm NM)

∙ 40kmh version.
∙ NM (New model)
∙ Aluminium, nicasil wall.
∙ Included Piston,Piston pin/clips.
∙ For Puch e50 engines.
∙ Import.

€ 64,95

74cc Parmakit cylinder (47mm)

74cc Parmakit cylinder (47mm)

∙ With butterfly valve exhaust port!
∙ Aluminium, Nicasil wall.
∙ Inclusive gaskets.
∙ Fits only in milled Puch e50 engine cases.
∙ Also for Puch Monza,Cobra and more.

€ 299,00

65cc Polini reed valve cylinder (43.5mm)

65cc Polini reed valve cylinder (43.5mm)

∙ Aluminium, nicasil wall.
∙ Piston, Piston pin/clips ,Reed valve, Manifold (20mm outer diameter) and Gaskets included.
∙ One of the fastest cylinders for Puch Maxi.

€ 299,00

74cc Airsal/Eurokit 8P cylinder (47mm) Puch Maxi

74cc Airsal/Eurokit 8P cylinder (47mm) Puch Maxi

∙ Aluminium, Nicasil wall.
∙ Inclusive Cylinder head, Piston, Piston pin and clips.
∙ Fits only in milled Puch e50 engine cases.
∙ Cylinder sleeve:51mm.
∙ Inlet…

€ 139,00

72cc Airsal cylinder (46mm)

72cc Airsal cylinder (46mm) ∙ Aluminium, nicasil wall.
∙ Included cylinder head, Piston,Piston pin/clips.
∙ Fits in the Puch e50 engine cases without milling.

€ 148,95

70cc Athena cylinder (45mm)

70cc Athena cylinder (45mm)

∙ Aluminium, Nicasil wall.
∙ Piston, piston pin (12mm) and circlips included.
∙ Top Qaulity cylinder.

€ 175,00

50cc Athena AJH reed valve cylinder (38mm)

50cc Athena AJH reed valve cylinder (38mm)

∙ Aluminium, Nicasil wall.
∙ Piston, piston pin (12mm) and circlips included.
∙ The fastest 50cc cylinder of top qaulity.

€ 169,00

OFFER!

50cc Athena cylinder (38mm)

50cc Athena cylinder (38mm)

∙ Aluminium, Nicasil wall.
∙ Piston, piston pin (12mm) and circlips included.
∙ Top Qaulity cylinder.

€ 169,00

70cc Athena reed valve cylinder (45mm)

70cc Athena reed valve cylinder (45mm)

∙ Aluminium, Nicasil wall.
∙ Piston, piston pin (12mm) and circlips included.
∙ Fast and Top Qaulity cylinder!

*Its beter to replace the steel reed valves with Carbon/Carbonit (The…

€ 229,00

50cc Athena reed valve cylinder (38mm)

50cc Athena reed valve cylinder (38mm)

∙ Aluminium, Nicasil wall.
∙ Piston, piston pin (12mm) and circlips included.
∙ The Fastest cylinder on the market and Top Qaulity cylinder!

*Its beter to replace the steel reed…

€ 215,00

50cc Athena cylinder original 25km/h 1.2hp (38mm)

50cc Athena cylinder original 25km/h 1.2hp (38mm)

∙ 50cc cylinder.
∙ Original 25km/h model (1.2hp) with inlet restriction.
∙ Aluminium, Nicasil wall.
∙ Piston, piston pin (12mm) and circlips included.
∙ Top Qaulity cylinder!

€ 149,00

Athena AJH cylinder set 70cc (45mm) Puch Maxi

Athena AJH cylinder set 70cc (45mm) Puch Maxi

∙ Athena AJH cylinder set 70cc (45mm)
∙ Top-Qaulity cylinder set!

Data:

∙ Cylinder capacity:70cc.
∙ Bore:45mm.
∙ Piston pin:12mm.
∙ Aluminium, Nicasil wall.
∙…

€ 172,95

Naraku cylinder 70cc T6 (45mm) Puch Maxi

Naraku cylinder 70cc T6 (45mm) Puch Maxi∙ Cylinder set 70cc (45mm)
∙ T6.
∙ Naraku

Data:

∙ Cylinder capacity: 70cc.
∙ Bore: 45mm.
∙ Piston pin: 12mm.
∙ Aluminium, Nicasil wall.
∙ Naraku.

​Complete set…

€ 72,90

50cc Power one cylinder 6-ports (38mm NM)

50cc Power one cylinder 6-ports (38mm NM)

∙ One of the fastest 50cc 6 ports cylinders.
∙ NM (New model)
∙ Aluminium, Nicasil wall.
∙ Included Piston,Piston pin/clips.
∙ For Puch engines.

€ 109,00

70cc Power one cylinder 6-ports (45mm NM)

70cc Power one cylinder 6-ports (45mm NM)

∙ Very fast 6 ports cylinder.
∙ NM (New model)
∙ Aluminium, Nicasil wall.
∙ Included Piston,Piston pin/clips.
∙ For Puch engines.

€ 99,00

70cc DMP cylinder 6-port (45mm NM)

70cc DMP cylinder 6-port (45mm NM) ∙ NM (New model)
∙ Aluminium, nicasil wall.
∙ Included cylinder head, Piston,Piston pin/clips.
∙ This cylinder has a lot of tuning potential!

€ 79,00

50cc DMP cylinder 4-port (38mm NM)

50cc DMP cylinder 4-port (38mm NM) ∙ NM (New model)
∙ Aluminium, nicasil wall.
∙ Included cylinder head, Piston,Piston pin/clips.
∙ Very good allround cylinder!

€ 69,95

50cc DMP cylinder 6-port (38mm NM)

50cc DMP cylinder 6-port (38mm NM) ∙ NM (New model)
∙ Aluminium, nicasil wall.
∙ Included cylinder head, Piston,Piston pin/clips.
∙ Very good allround cylinder!

€ 99,00

50cc cylinder 10mm pin Puch MV/VS/DS/X30 (38mm)

50cc cylinder 10mm pin Puch MV/VS/DS/X30 (38mm)

∙ 50cc cylinder.
∙ Pistonpin 10mm!
∙ Cast iron.
∙ Inlet:14mm.

Complete set with:

∙ Cylinder (38mm)
∙ Piston.
∙ Piston rings.
∙ Piston pin (10mm)
∙ Piston…

€ 59,95

50cc cylinder 12mm pin Puch MV/VS/DS/MS/X30 (38mm)

50cc cylinder 12mm pin Puch MV/VS/DS/MS/X30 (38mm)

∙ 50cc cylinder (38mm)
∙ Pistonpin 12mm!
∙ Cast iron.
∙ Inlet:14mm.

Complete set with:

∙ Cylinder (38mm)
∙ Piston.
∙ Piston rings (Block rings)
∙ Piston pin…

€ 49,00

60cc cylinder 10mm pin Puch MV/VS/DS/MS/X30 (40mm)

60cc cylinder 10mm pin Puch MV/VS/DS/MS/X30 (40mm)

∙ 60cc cylinder (40mm)
∙ Pistonpin 10mm!
∙ Cast iron.

Complete set with:

∙ Cylinder (40mm)
∙ Piston.
∙ Piston rings (L-Ring)
∙ Piston pin (10mm)
∙ Piston…

€ 57,95

60cc cylinder 12mm pin Puch MV/VS/DS/MS/X30 (40mm)

60cc cylinder 12mm pin Puch MV/VS/DS/MS/X30 (40mm)

∙ 60cc cylinder (40mm)
∙ Pistonpin 12mm!
∙ Cast iron.

Complete set with:

∙ Cylinder.
∙ Piston.
∙ Piston rings (1x L-Ring and 1x Block ring)
∙ Piston pin…

€ 54,90

Gasket set 70cc (45mm) cylinder Puch Maxi

Gasket set 70cc (45mm) cylinder Puch Maxi

∙ Topset.
∙ For 60cc and 70cc cylinder ( 40mm / 45mm )

Complete set with:

∙ 1x Base gasket.
∙ 1x Head gasket.
∙ 1x Inlet gasket.
∙ 1x Exhaust gasket.

Suitable for:

∙…

€ 3,75

Gasket set 50cc (38mm) cylinder Puch Maxi

Gasket set 50cc (38mm) cylinder Puch Maxi

∙ Topset.
∙ For 50cc cylinder ( 38mm )

Complete set with:

∙ 1x Base gasket.
∙ 1x Head gasket.
∙ 1x Inlet gasket.
∙ 1x Exhaust gasket.

Suitable for:

∙ Puch e50…

€ 2,99

Gasket set 70cc (45mm) Airsal cylinder Puch Maxi

Gasket set 70cc (45mm) Airsal cylinder Puch Maxi

∙ Topset.
∙ For 70cc Airsal cylinder ( 45mm )

Complete set with:

∙ 1x Base gasket.
∙ 1x Head gasket.
∙ 1x Inlet gasket.
∙ 1x Exhaust gasket.

Suitable for:

∙ Puch…

€ 2,95

Gasket set 50cc (38mm) Airsal cylinder Puch Maxi

Gasket set 50cc (38mm) Airsal cylinder Puch Maxi

∙ Topset.
∙ For 50cc Airsal cylinder ( 38mm )

Complete set with:

∙ 1x Base gasket.
∙ 1x Head gasket.
∙ 1x Inlet gasket.
∙ 1x Exhaust gasket.

Suitable for:

∙ Puch…

€ 2,49

Gasket set 74cc (47mm) Italkit / Gilardoni Puch Maxi

Gasket set 74cc (47mm) Italkit / Gilardoni Puch Maxi

∙ Topset.
∙ For 74cc Italkit / Gilardoni cylinder (47mm)

Complete set with:

∙ 1x Base gasket.
∙ 1x Head gasket.
∙ 2x Inlet gasket.
∙ 1x Exhaust gasket.

Suitable…

€ 8,50

Gasket set 70cc (45mm) Athena AJH Puch Maxi

Gasket set 70cc (45mm) Athena AJH Puch Maxi

∙ Topset.
∙ For 70cc Athena AJH cylinder (45mm)

Complete set with:

∙ 1x Base gasket.
∙ 1x Head gasket.
∙ 2x Inlet gasket.
∙ 1x Exhaust gasket.

Suitable for:

∙ Puch e50…

€ 4,50

Gasket set 65cc (43.5mm) Polini Puch Maxi

Gasket set 65cc (43.5mm) Polini Puch Maxi

∙ Topset.
∙ For 65cc Polini cylinder (43.5mm)

Complete set with:

∙ 1x Base gasket.
∙ 1x Head gasket.
∙ 2x Inlet gasket.
∙ 1x Exhaust gasket.

Suitable for:

∙ Puch e50…

€ 4,95

Gasket set 65cc (43.5mm) Metrakit Puch Maxi

Gasket set 65cc (43.5mm) Metrakit Puch Maxi

∙ Topset.
∙ For 65cc Metrakit cylinder (43.5mm)

Complete set with:

∙ 1x Base gasket (0.5mm)
∙ 1x Base gasket (1.0mm)
∙ 1x Head gasket.
∙ 1x Inlet gasket.
∙ 1x Exhaust…

€ 3,75

Gasket set 50cc Puch MV/VS/DS (38mm)

Gasket set 50cc Puch MV/VS/DS (38mm)

∙ Gasket set.
∙ 50cc (38mm)

Complete set with:​

∙ 1x Base gasket.
∙ 1x Head gasket.
∙ 1x Exhaust gasket.

Suitable for Puch MV, VS and DS 2/3 gear engines.

€ 4,95

Gasket set armored 50cc Puch MV/VS/DS (38mm)

Gasket set armored 50cc Puch MV/VS/DS (38mm)

∙ Gasket set.
∙ 50cc (38mm)
∙ With armored head gasket!

Complete set with:​

∙ 1x Base gasket.
∙ 1x Head gasket (Armored)
∙ 1x Exhaust gasket.

Suitable for Puch MV, VS…

€ 4,95

Gasket set 60cc Puch MV/VS/DS (40mm)

Gasket set 60cc Puch MV/VS/DS (40mm)

∙ Gasket set.
∙ 60cc (40mm)

Complete set with:​

∙ 1x Base gasket.
∙ 1x Head gasket.
∙ 1x Exhaust gasket.

Suitable for Puch MV, VS and DS 2/3 gear engines.

€ 4,95

Gasket set 60cc Puch R engine (40mm)

Gasket set 60cc Puch R engine (40mm)

∙ Gasket set.
∙ 60cc (40mm)

Complete set with:​

∙ 1x Base gasket.
∙ 1x Head gasket.
∙ 1x Exhaust gasket.

Suitable for Puch R engines.

€ 5,95

Gasket set 60cc Puch Monza/X50 (40mm)

Gasket set 60cc Puch Monza/X50 (40mm)

∙ Gasket set.
∙ 60cc (40mm)

Complete set with:​

∙ 1x Base gasket.
∙ 1x Head gasket.
∙ 1x Inlet gasket.
∙ 1x Exhaust gasket.

Suitable for:

∙ Puch Monza.
∙ Puch X50.

€ 5,95