Are you looking for nice clothes or accessories from Puch?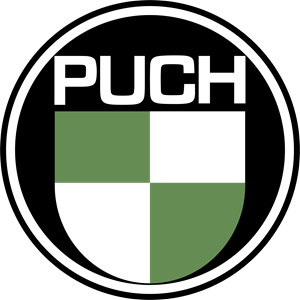 Here you will find our wide range of merchandise products from Puch such as scale models, clothing, caps, hats, key chains, cups, stickers and many more fun accessories from Puch!
Have you not found your part or do you have questions about a part? Contact us for a quick response!
Scale model 1:10 metallic red as original Puch Maxi S

Scale model 1:10 metallic red as original Puch Maxi S

∙ Scale model.
∙ Puch Maxi S.
∙ Beautifull collectors item or to give as a gift!
∙ Scale 1:10.
∙ Metallic red model.
∙ The wheels and handlebar can be turned.
∙…

€ 79,95

Scale model 1:10 red as original Puch Maxi N

Scale model 1:10 red as original Puch Maxi N

∙ Scale model.
∙ Puch Maxi N.
∙ Beautifull collectors item or to give as a gift!
∙ Scale 1:10.
∙ Red model.
∙ The wheels and handlebar can be turned.
∙ All the original…

€ 79,95

Mug / drinking cup / beer mug Frosty Mug Puch Logo 450ML

Mug / drinking cup / beer mug Frosty Mug Puch Logo 450ML

∙ Mug / drinking cup / beer mug / cup.
∙ Frosty Mug.
∙ With Puch Logo
∙ For best results, place mug upside down in the freezer for 2 to 4 hours, then fill with your…

€ 13,95

Money box tin oil drum Puch 120x90mm

Money box tin oil drum Puch 120x90mm

∙ Money box.
∙ Model oil drum with Puch logo.
∙ Tin.

Measurements:

∙ Diameter:90mm.
∙ Heigth:120mm.

€ 8,90

Tile Delft Blue Puch

Tile Delft Blue Puch

∙ Tile.
∙ Traditional Delft Blue.
∙ Typical Dutch.
∙ 15x15cm.
∙ 230 Gram.
∙ Puch.

€ 14,50

Tile Delft Blue Oude Liefde Roest

Tile Delft Blue Oude Liefde Roest

∙ Tile.
∙ Traditional Delft Blue.
∙ Typical Dutch.
∙ 15x15cm.
∙ 230 Gram.
∙ Oude Liefde Roest.

€ 14,95

Plush bear Puch 30cm

Plush bear Puch 30cm

∙ Plush bear.
∙ With Puch logo.
∙ Super soft!
∙ Heigth:30cm.

€ 19,95

Christmas ball Puch logo blue

Christmas ball Puch logo blue

∙ Christmas ball ornament.
∙ Blue.
∙ With black/gold Puch logo.
∙ Plastic (Drop resistant)
∙ Diameter:80mm.
∙ A Piece.

€ 5,95

Christmas ball Puch logo gold

Christmas ball Puch logo gold

∙ Christmas ball ornament.
∙ Gold.
∙ With black/gold Puch logo.
∙ Plastic (Drop resistant)
∙ Diameter:80mm.
∙ A Piece.

€ 5,95

Christmas ball Puch logo red

Christmas ball Puch logo red

∙ Christmas ball ornament.
∙ Red.
∙ With black/gold Puch logo.
∙ Plastic (Drop resistant)
∙ Diameter:80mm.
∙ A Piece.

€ 5,95

Christmas ball Puch logo green

Christmas ball Puch logo green

∙ Christmas ball ornament.
∙ Green.
∙ With black/gold Puch logo.
∙ Plastic (Drop resistant)
∙ Diameter:80mm.
∙ A Piece.

€ 5,95

Christmas ball Puch logo silver

Christmas ball Puch logo silver

∙ Christmas ball ornament.
∙ Silver.
∙ With black/gold Puch logo.
∙ Plastic (Drop resistant)
∙ Diameter:80mm.
∙ A Piece.

€ 5,95

Backpack with Puch logo (Black)

Backpack with Puch logo (Black)

∙ Backpack with Puch logo.
∙ Polyester.
∙ Length:30cm.
∙ Width:17cm.
∙ Height:43cm.
∙ 1 big central pocket and 3 front pockets.
∙ Adjustable shoulder straps and reinforced back.
∙ Black.

€ 27,95

Backpack with Puch logo (Black)

Backpack with Puch logo (Black)

∙ Backpack with Puch logo.
∙ Puch logo:12,4cm.
∙ Dimensions:30x40cm
∙ With cord closure.
∙ Black.

€ 14,90

Backpack Puch Eagle logo black

Backpack Puch Eagle logo black

∙ Backpack.
∙ With Puch Eagle logo.
∙ Measurements:30x40cm
∙ With cord closure.
∙ Black.

€ 15,95

Umbrella with Puch logo 130cm (White/Green)

Umbrella with Puch logo 130cm (White/Green)

∙ With Puch logo on both sides.
∙ 130cm.
∙ Wooden handle.
∙ Plastic tips.
∙ Metal handle and ribs.
∙ Velcro closure.
∙ White/Green.

€ 18,95

Environmental mat with Puch logo white (200x100cm)

Environmental mat with Puch logo white (200x100cm)

∙ Environmental mat.
∙ With Puch logo.
∙ White Puch print.
∙ Measurements:200x100cm.
∙ Absorbs 4 liter of liquid (Does not leak through)
∙ Also to use for showroom…

€ 62,95

Environmental mat with Puch logo green (200x100cm)

Environmental mat with Puch logo green (200x100cm)

∙ Environmental mat.
∙ With Puch logo.
∙ Green Puch print.
∙ Measurements:200x100cm.
∙ Absorbs 4 liter of liquid (Does not leak through)
∙ Also to use for showroom…

€ 62,95

Doormat with Puch logo 90x60cm

Doormat with Puch logo 90x60cm

∙ Doormat.
∙ Black.
∙ With Puch logo.
∙ Measurements:90x60cm.
∙ Underside anti-slip.

€ 29,95

Puch Thermometer

Puch Thermometer

∙ Metal/Enamel green.
∙ Degrees Celius/Fahrenheit.
∙ 6.5x30cm.

€ 42,95

Puch clock (Chrome outskirt)

Puch clock (Chrome outskirt)

∙ Round Puch clock.
∙ Chrome outskirt.
∙ Comes without battery (AA battery)
∙ Diameter:195mm.

€ 23,50

Puch clock (White outskirt)

Puch clock (White outskirt)

∙ Round Puch clock.
∙ White outskirt.
∙ Comes without battery (AA battery)
∙ Diameter:195mm.

€ 23,50

Keychain/keycord Puch

Keychain/keycord Puch

∙ Keychain/Keycord.
∙ With Puch logo.
∙ Total length:45cm.
∙ Cord length:40cm.

€ 5,95

Keychain Puch World Champion Cord

Keychain Puch World Champion Cord

∙ Keychain with Puch World Champion Logo.
∙ Cord- Total length 20cm.
∙ To wear around the wrist.

€ 6,95

Keychain Foxtail

Keychain Foxtail

∙ Keychain.
∙ Foxtail.
∙ With chromed keychain hook.
∙ Length:30-35cm.
∙ Nylon.

€ 6,95

Magnet Puch logo 100mm

Magnet Puch logo 100mm

∙ Magnet sticker.
∙ With Puch logo.
∙ Diameter:100mm.
∙ 0,85 magnetic film.
∙ Can be used on all metal surfaces like the refrigerator, car, locker or somewhere in the workplace.

€ 12,90

Magnet Puch logo 55mm

Magnet Puch logo 55mm

∙ Magnet sticker.
∙ With Puch logo.
∙ Diameter:55mm.
∙ 0,85 magnetic film.
∙ Can be used on all metal surfaces like the refrigerator, car, locker or somewhere in the workplace.

€ 5,90

Workshop sticker Puch (Dutch)

Workshop sticker Puch (Dutch)

∙ Workshop sticker.
∙ Dutch.
∙ Green with Puch print.
∙ Good Qaulity sticker.
∙ Measurements:200x285mm.

€ 9,99

Workshop sticker Puch (English)

Workshop sticker Puch (English)

∙ Workshop sticker.
∙ English.
∙ Green with Puch print.
∙ Good Qaulity sticker.
∙ Measurements:200x285mm.

€ 9,99

Workshop sticker Puch (Deutsch)

Workshop sticker Puch (Deutsch)

∙ Workshop sticker.
∙ Deutsch.
∙ Green with Puch print.
∙ Good Qaulity sticker.
∙ Measurements:200x285mm.

€ 9,99

Sticker Puch Parking Only (Green)

Sticker Puch Parking Only (Green)

∙ Sticker.
∙ Puch Parking Only.
∙ Green.
∙ Good Qaulity sticker.
∙ Measurements:200x285mm.

€ 9,99

Coaster set Puch Beer Parking Only

Coaster set Puch Beer Parking Only

∙ Coasters.
∙ Beer Parking Only.
∙ With Puch logo.
∙ Green.
∙ Plastic.
∙ 2 Pieces.

Measurements:

∙ Length:93mm.
∙ Width:93mm.
∙ Thickness:3mm.

€ 4,25

Coasters set Puch Maxi (2 Pieces)

Coasters set Puch Maxi (2 Pieces)

∙ Coasters set.
∙ 2 Pieces.
∙ Puch Maxi model.
∙ Cork with printed MDF top layer (With rounded corners)
∙ Measurements:95x95mm.

€ 4,50

Sign Puch logo (10cm)

Sign Puch logo (10cm)

∙ Sign Puch logo.
∙ Diameter:10cm.
∙ Heavy Qaulity!
∙ Emaille.

€ 21,95

Sign Puch Werkstatt (40X8cm)

Sign Puch Werkstatt (40X8cm)

∙ Sign Puch Werkstatt.
∙ Measurements:40x8cm.
∙ Very good Qaulity!
∙ Emaille.

€ 31,95

Sign Puch Garage (30X8cm)

Sign Puch Garage (30X8cm)

∙ Sign Puch Garage.
∙ Measurements:30x8cm.
∙ Very good Qaulity!
∙ Emaille.

€ 28,95

Sign Puch service yellow (14X10cm)

Sign Puch service yellow (14X10cm)

∙ Sign Puch service.
∙ Yellow model.
∙ Measurements:14x10cm.
∙ Very good Qaulity!
∙ Emaille.

€ 21,95

Pin with Puch logo

Pin with Puch logo

∙ Pin with Puch logo.
∙ Steel.
∙ Length:55mm.
∙ Diameter logo:12mm.

€ 4,95

Key chain Flahlight LED Purple

Key chain Flahlight LED Purple

∙ Key chain.
∙ Flashlight.
∙ Purple.
∙ 6x LED.

Measurements:

∙ Length: 40mm.
∙ Diameter: 27mm.

€ 2,50

Banner cloth 300cm x 80cm Polini

Banner cloth 300cm x 80cm Polini

∙ Banner.
∙ Lighweight cloth.
∙ Polini.

Measurements:

∙ Length: 300cm.
∙ Height: 80cm.

€ 34,95