Are you looking for a handlebar or supplies for your Puch?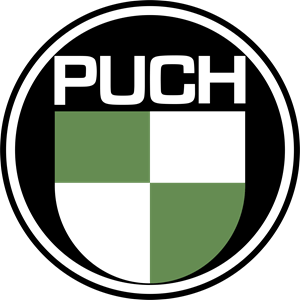 Here you will find our wide range of handlebars and steering parts for all Puch models such as Puch Maxi, Monza, Magnum X, Magnum, MV, VS, MS, DS. Choose from, for example, Original, Chopper, Cross and Race handlebars. Suitable for your Street, Race and Cross Puch. You will also find all the necessities for your handlebar such as handlebar clamps, levers, handlebar rollers, mirrors and much more from brands such as Polini, Lusito, Domino, Bumm and DMP.
Have you not found your part or do you have questions about a part? Contact us for a quick response!
Puch handlebar standard black powdercoated

Puch handlebar standard black powdercoated

∙ Handlebar.
∙ Standard model.
∙ Black powdercoated.

Measurements: (Photo 2)

∙ A Width: 650mm.
∙ B Width: 120mm.
∙ C Heigth: 290mm.
∙ Diameter: 22mm.

Suitable for:

∙…

€ 39,50

Puch handlebar standard (Chrome)

Puch handlebar standard (Chrome)

∙ Puch Maxi S/N.
∙ Standard model.
∙ Chrome.

Measurements: (Photo 2)

∙ A Width: 650mm.
∙ B Width: 120mm.
∙ C Heigth: 290mm.
∙ Diameter: 22mm.

€ 18,95

Puch Maxi N handlebar as original Luxe (Chromed)

Puch Maxi N handlebar as original Luxe (Chromed)

∙ Puch Maxi N.
∙ As original.
∙ Luxe model.
∙ Chromed.

Measurements: (Photo 4)

∙ A Width: 580mm.
∙ B Width: 120mm.
∙ C Heigth: 160mm.
∙ Diameter: 22mm.
∙ Handlebar pin:21mm.

€ 44,95

Puch Maxi N handlebar as original (Chrome)

Puch Maxi N handlebar as original (Chrome)

∙ Puch Maxi N.
∙ As original.
∙ Chrome.

Measurements: (Photo 4)

∙ A Width: 580mm.
∙ B Width: 120mm.
∙ C Heigth: 160mm.
∙ Diameter: 22mm.

€ 33,95

Puch handlebar Z-one (Black)

Puch handlebar Z-one (Black)

∙ Puch Z-one
∙ Also fits other Puch models and other mopeds.
∙ Black.

Measurements: (Photo 2)

∙ A Width: 620mm.
∙ B Width: 140mm.
∙ C Heigth: 280mm.
∙ Diameter: 22mm.

€ 19,90

Puch handlebar Z-one (Chrome)

Puch handlebar Z-one (Chrome)

∙ Puch Z-one
∙ Also fits other Puch models and other mopeds.
∙ Chrome.

Measurements: (Photo 2)

∙ A Width: 620mm.
∙ B Width: 140mm.
∙ C Heigth: 280mm.
∙ Diameter: 22mm.

€ 19,90

Puch Maxi P handlebar (Chrome)

Puch Maxi P handlebar (Chrome)

∙ Puch Maxi S/N.
∙ Chrome.

Measurements: (Photo 3)

∙ A Width: 610mm.
∙ B Width: 180mm.
∙ C Heigth: 260mm.
∙ Diameter: 22mm.

€ 22,95

Handlebar one bar 29cm chrome Puch MV/MS/VS

Handlebar one bar 29cm chrome Puch MV/MS/VS

∙ Handlebar.
∙ Chrome.
∙ Model with one bar.
∙ Top-Qaulity!

Measurements: (Foto 2)

∙ A Width:640mm.
∙ C Heigth: 140mm.
∙ Diameter: 22mm.
∙ Heigth handlebar…

€ 59,90

Handlebar double bar 29cm chrome Puch MV/MS/VS

Handlebar double bar 29cm chrome Puch MV/MS/VS

∙ Stuur.
∙ Chrome.
∙ Model with double bar.
∙ Top-Qaulity!

Measurements: (Foto 2)

∙ A Width:640mm.
∙ C Heigth: 140mm.
∙ Diameter: 22mm.
∙ Heigth handlebar…

€ 62,90

Handlebar one bar 45cm chrome Puch MV/MS/VS

Handlebar one bar 45cm chrome Puch MV/MS/VS

∙ Handlebar.
∙ Chrome.
∙ Model with one bar.
∙ Top-Qaulity!

Measurements: (Foto 2)

∙ A Width:640mm.
∙ C Heigth: 140mm.
∙ Diameter: 22mm.
∙ Heigth handlebar…

€ 62,90

Handlebar double bar 45cm chrome Puch MV/MS/VS

Handlebar double bar 45cm chrome Puch MV/MS/VS

∙ Stuur.
∙ Chrome.
∙ Model with double bar.
∙ Top-Qaulity!

Measurements: (Foto 2)

∙ A Width:640mm.
∙ C Heigth: 140mm.
∙ Diameter: 22mm.
∙ Heigth handlebar…

€ 62,90

Handlebar sport chrome Puch MV/MS/VS

Handlebar sport chrome Puch MV/MS/VS

∙ Handlebar.
∙ Chrome.
∙ Sport model.
∙ Top-Qaulity!

Suitable for:

∙ Puch MV.
∙ Puch MS.
∙ Puch VS.

€ 49,95

Handlebar tour chrome Puch MV/MS/VS

Handlebar tour chrome Puch MV/MS/VS

∙ Handlebar.
∙ Chrome.
∙ Tour model.
∙ Top-Qaulity!

Suitable for:

∙ Puch MS50.
∙ Puch VS50.
∙ Puch MS50V.
∙ Puch MS50L.
∙ Puch VS50D.

€ 47,95

Handlebar pin chrome 25cm universal Puch MV/MS/VS

Handlebar pin chrome 25cm universal Puch MV/MS/VS

∙ Handlebar pin.
∙ Universal.
∙ Chrome.

Measurements:

∙ Length:25cm.
∙ Diameter:22/22.2cm.

Suitable for:

∙ Puch MV.
∙ Puch MS.
∙ Puch VS.

€ 29,90

Handlebar pin chrome 30cm universal Puch MV/MS/VS

Handlebar pin chrome 30cm universal Puch MV/MS/VS

∙ Handlebar pin.
∙ Universal.
∙ Chrome.

Measurements:

∙ Length:30cm.
∙ Diameter:22/22.2cm.

Suitable for:

∙ Puch MV.
∙ Puch MS.
∙ Puch VS.

€ 12,90

Handlebar pin chrome 40cm universal Puch MV/MS/VS

Handlebar pin chrome 40cm universal Puch MV/MS/VS

∙ Handlebar pin.
∙ Universal.
∙ Chrome.

Measurements:

∙ Length:40cm.
∙ Diameter:22/22.2cm.

Suitable for:

∙ Puch MV.
∙ Puch MS.
∙ Puch VS.

€ 14,90

Handlebar chrome Puch Monza/VZ

Handlebar chrome Puch Monza/VZ

∙ Handlebar.
∙ Chrome.
∙ Top-Qaulity!

Measurements: (Photo 2)

∙ A Width:270mm.
∙ B Width:120mm.
∙ C Heigth:150mm.
∙ Diameter:22mm.

Suitable for:

∙ Puch Monza.
∙ Puch VZ.

€ 59,90

Handlebar low chrome Puch VZ

Handlebar low chrome Puch VZ

∙ Handlebar.
∙ Chrome.
∙ Low model.
∙ With hole for the cable.

Measurements: (Photo 3)

∙ A Width:620mm.
∙ B Width:160mm.
∙ C Heigth:60mm.
∙ Diameter:22mm.

Suitable for:

∙ Puch VZ.

€ 45,90

Handlebar Swedish model chrome Puch MV/MS/VS

Handlebar Swedish model chrome Puch MV/MS/VS

∙ Handlebar.
∙ Chrome.
∙ Swedish model.
∙ Top-Qaulity!

Measurements: (Foto 5)

∙ A Width:680mm.
∙ B Width:180mm.
∙ C Heigth:200mm.
∙ Diameter:22mm.

Suitable for:

∙…

€ 36,90

Handlebar original model chrome Puch MV/MS/VS

Handlebar original model chrome Puch MV/MS/VS

∙ Handlebar.
∙ Chrome.
∙ Original model.
∙ Top-Qaulity!

Measurements: (Foto 4)

∙ A Width:690mm.
∙ B Width:140mm.
∙ C Heigth:280mm.
∙ Diameter:22mm (25mm thickening…

€ 31,90

Puch handlebar Cuppini 220mm (Chrome)

Puch handlebar Cuppini 220mm (Chrome)

∙ Puch Maxi S/N.
∙ Cuppini Manubrio Atenne Piccolo.
∙ Chrome.
∙ Diameter:22mm.
∙ Width above:780mm.
∙ Width below:150mm.
∙ Height:220mm.

€ 53,90

Puch handlebar Cuppini 150mm (Chrome)

Puch handlebar Cuppini 150mm (Chrome)

∙ Puch Maxi S/N.
∙ Cuppini Manubrio Atenne Piccolo.
∙ Chrome.
∙ Diameter:22mm.
∙ Width above:680mm.
∙ Width below:150mm.
∙ Height:150mm.

€ 54,90

Puch handlebar Cuppini 120mm (Chrome)

Puch handlebar Cuppini 120mm (Chrome)

∙ Puch Maxi S/N.
∙ Cuppini Manubrio Atenne Piccolo.
∙ Chrome.
∙ Diameter:22mm.
∙ Width above:650mm.
∙ Width below:110mm.
∙ Height:120mm.

€ 49,95

Apehanger handlebar (Chrome)

Apehanger handlebar (Chrome)

∙ Puch Maxi S/N.
∙ Apehangenger
∙ Chrome.

Measurements: (Photo 3)

∙ A Width: 950mm.
∙ B Width: 230mm.
∙ C Heigth: 500mm.
∙ Diameter: 22mm.

€ 64,90

Handlebar Apehanger chopper wide black 380mm

Handlebar Apehanger chopper wide black 380mm

∙ Handlebar.
∙ Apehanger / Chopper.
∙ Wide model.
∙ Black.

Measurements:

∙ Width above: 840mm.
∙ Width below: 260mm.
∙ Height: 380mm.
∙ Diameter: 22mm.

€ 49,00

Handlebar Apehanger chopper wide black 300mm

Handlebar Apehanger chopper wide black 300mm

∙ Handlebar.
∙ Apehanger / Chopper.
∙ Wide model.
∙ Black.

Measurements:

∙ Width above: 810mm.
∙ Width below: 250mm.
∙ Height: 300mm.
∙ Diameter: 22mm.

€ 49,00

Handlebar Apehanger chopper wide chrome 380mm

Handlebar Apehanger chopper wide chrome 380mm

∙ Handlebar.
∙ Apehanger / Chopper.
∙ Wide model.
∙ Chrome.

Measurements:

∙ Width above: 830mm.
∙ Width below: 250mm.
∙ Height: 380mm.
∙ Diameter: 22mm.

€ 49,00

Handlebar Apehanger chopper wide chrome 300mm

Handlebar Apehanger chopper wide chrome 300mm

∙ Handlebar.
∙ Apehanger / Chopper.
∙ Wide model.
∙ Chrome.

Measurements:

∙ Width above: 820mm.
∙ Width below: 250mm.
∙ Height: 300mm.
∙ Diameter: 22mm.

€ 49,00

Handlebar Apehanger chopper small chrome 380mm

Handlebar Apehanger chopper small chrome 380mm

∙ Handlebar.
∙ Apehanger / Chopper.
∙ Small model.
∙ Chrome.

Measurements:

∙ Width above: 740mm.
∙ Width below: 240mm.
∙ Height: 380mm.
∙ Diameter: 22mm.

€ 49,00

Handlebar Apehanger chopper small chrome 300mm

Handlebar Apehanger chopper small chrome 300mm

∙ Handlebar.
∙ Apehanger / Chopper.
∙ Smal model.
∙ Chrome.

Measurements:

∙ Width above: 750mm.
∙ Width below: 240mm.
∙ Height: 300mm.
∙ Diameter: 22mm.

€ 49,00

Puch handlebar (Low chrome)

Puch handlebar (Low chrome)

∙ Puch Maxi S/N.
∙ Chrome.
∙ Width above:700mm.
∙ Width below:160mm.
∙ Height:120 mm.

€ 18,95

Handlebar cross wide carbon

Handlebar cross wide carbon

∙ Handlebar.
∙ Cross model.
∙ Carbon.

Measurements:

∙ Width:830mm.
∙ Diameter:22mm.

€ 26,90

Handlebar cross wide aluminium

Handlebar cross wide aluminium

∙ Handlebar.
∙ Cross model.
∙ Aluminium.

Measurements:

∙ Width:830mm.
∙ Diameter:22mm.

€ 22,90

Handlebar cross wide blue

Handlebar cross wide blue

∙ Handlebar.
∙ Cross model.
∙ Blue.

Measurements:

∙ Width:830mm.
∙ Diameter:22mm.

€ 20,90

Handlebar cross wide gold

Handlebar cross wide gold

∙ Handlebar.
∙ Cross model.
∙ Gold.

Measurements:

∙ Width:830mm.
∙ Diameter:22mm.

€ 22,95

Handlebar as Protaper aluminium 22mm black

Handlebar as Protaper aluminium 22mm black

∙ Handlebar.
∙ Model with bar as Protaper.
∙ Aluminium.
∙ Black.

Measurements:

∙ Length: 75cm.
∙ Height: 16cm.
∙ Diameter: 22mm.

€ 29,95

Handlebar as Protaper aluminium 22mm gold

Handlebar as Protaper aluminium 22mm gold

∙ Handlebar.
∙ Model with bar as Protaper.
∙ Aluminium.
∙ Gold.

Measurements:

∙ Length: 75cm.
∙ Height: 16cm.
∙ Diameter: 22mm.

€ 29,95

Handlebar as Protaper aluminium 22mm silver

Handlebar as Protaper aluminium 22mm silver

∙ Handlebar.
∙ Model with bar as Protaper.
∙ Aluminium.
∙ Silver.

Measurements:

∙ Length: 75cm.
∙ Height: 16cm.
∙ Diameter: 22mm.

€ 29,95

Puch M handlebar smal (Chrome)

Puch M handlebar smal (Chrome)

∙ Puch Maxi S/N.
∙ Smal model.
∙ Chrome.

Measurements: (Photo 2)

∙ A Width: 560mm.
∙ B Width: 200mm.
∙ Diameter: 22mm.

€ 14,95

Handlebar Fatbar universal carbon

Handlebar Fatbar universal carbon

∙ Handlebar.
∙ Fatbar model as Renthal.
∙ Carbon.
∙ Universal.
∙ A-Qaulity!

Measurements:

∙ Width: 800mm.
∙ Diameter mounting part: 28mm.
∙ Diameter handle: 22mm.
∙ Wall thickness: 4mm.

€ 59,95

Handlebar Fatbar universal black

Handlebar Fatbar universal black

∙ Handlebar.
∙ Fatbar model as Renthal.
∙ Black.
∙ Universal.
∙ A-Qaulity!

Measurements:

∙ Width: 800mm.
∙ Diameter mounting part: 28mm.
∙ Diameter handle: 22mm.
∙ Wall thickness: 4mm.

€ 39,95

Puch handlebar (Low chrome)

Puch handlebar (Low chrome)

∙ Puch Maxi S/N.
∙ Chrome.
∙ Width above:620 mm.
∙ Width below:140mm.
∙ Height:60mm.

€ 19,95

Puch handlebar (Low black)

Puch handlebar (Low black)

∙ Puch Maxi S/N.
∙ Black.
∙ Width above:650 mm.
∙ Width below:140mm.
∙ Height:60mm.

€ 17,50

Puch handlebar (Low chrome)

Puch handlebar (Low chrome)

∙ Puch Maxi S/N.
∙ Chrome.
∙ Width above:640 mm.
∙ Width below:190mm.
∙ Height:60mm.

€ 12,95

Handlebar Easy Rider high chrome universal

Handlebar Easy Rider high chrome universal

∙ Handlebar.
∙ High model.
∙ Easy Rider.
∙ Universal.
∙ Chrome.

Measurements:

∙ Width above:550mm.
∙ Width below:200mm.
∙ Heigth:260mm.
∙ Diameter:22mm.

€ 58,90

Handlebar Custom (Low chrome)

Handlebar Custom (Low chrome)

∙ Puch Maxi S/N.
∙ Chrome.
∙ Width above:600 mm.
∙ Width below:170mm.
∙ Height:120mm.

€ 26,90

Handlebar TT-Model black universal

Handlebar TT-Model black universal

∙ Handlebar.
∙ TT-Model.
∙ Universal to use.
∙ Black powdercoated.

Measurements: (Foto 2)

∙ A Width: 575mm.
∙ B Width: 170mm.
∙ C Height: 140mm.
∙ Diameter: 22mm.

€ 42,95

Handlebar 22mm Cross Gold VOCA Top-Quality! universal

Handlebar 22mm Cross Gold VOCA Top-Quality! universal

∙ Handlebar.
∙ Cross model.
∙ Gold.
∙ The positioned lines are useful for the exact adjustment of the handlebar.
∙ The right end of the handlebar is polished for the…

€ 46,99

Handlebar 22mm Cross Blue VOCA Top-Quality! universal

Handlebar 22mm Cross Blue VOCA Top-Quality! universal

∙ Handlebar.
∙ Cross model.
∙ Blue.
∙ The positioned lines are useful for the exact adjustment of the handlebar.
∙ The right end of the handlebar is polished for the…

€ 46,99

Handlebar 22mm Cross Green VOCA Top-Quality! universal

Handlebar 22mm Cross Green VOCA Top-Quality! universal

∙ Handlebar.
∙ Cross model.
∙ Green.
∙ The positioned lines are useful for the exact adjustment of the handlebar.
∙ The right end of the handlebar is polished for…

€ 46,99